ขอวิศวกรผู้ยิ่งใหญ่ทรงพระเจริญ
Pictures were taken at Thai Human Imagery Museum, Nakhon Chaisri
(73120 Nakhon Prathom)
034-332607 • 034-332109
---
Thai Games - การละเล่นของไทย
---
For men of all nations, irrespective of age, games are an essential part of life. Apart from relieving stress and strain in daily life, games help to build up physical fitness and mental alertness. Refreshing heart and mind, games also create social harmony and friendlyness.

Dating back from the Sukhothai Period, Thailand is well-known for many traditional games as recorded in the famous Manohra Play, such as Kite Flying, Post Seizing Monkeys (Ling Ching Lak) and Fish Entering Net (Plaa Long Uan). These games are well known even nowdays, in particular among the young.



---


Below, we have a closer look at four children's games and one adult game.




Ree Ree Khao Sarn • รีรีข้าวสาร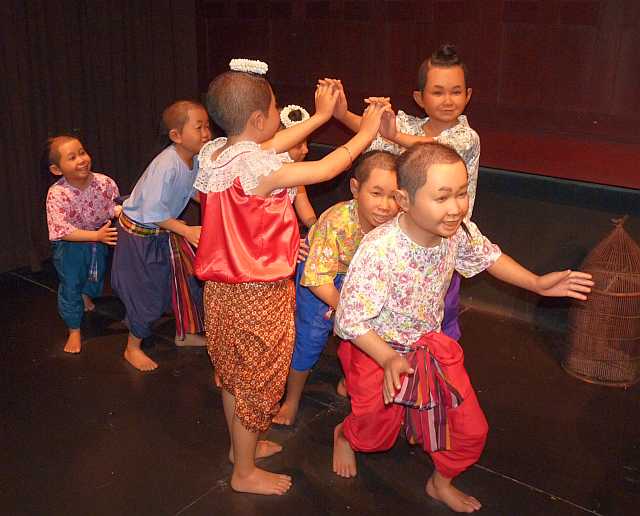 Draw lots for 2 players to play arches. Both players extend their arms forward above their heads to from a double arches. The rest stand in line holding on their respective friends' shoulders. They walk slowly through the arch-way while the 2 human arches singing a chorus. The leader leads the line and makes a U-turn behind the arch, his team mates follow suit continuously as long as the chorus is still sung. They can make U-turn at alternate side at will. Immediately when the chorus ends, the arches are suddenly lowered to trap the players in between. The trapped persons are then out. The game continues until the last one is trapped out.
The Song :
| | |
| --- | --- |
| Ree Ree Khao San | รีรีข้าวสาร |
| Song Tanane Khao Pleuk | สองทะนานข้าวเปลือก |
| Luek Thong Bai Lane | เลือกท้องใบลาน |
| Kep Bia Tai Thoon Rane | เก็บเบี้ยใต้ถุนร้าน |
| Khode Khao Sai Jane | คดข้าวใส่จาน |
| Pane Aou Khon Khang Lang Wai | พานเอาคนข้างหลังไว้ |
Maeng Mum • แมงมุม


coming soon ...
Cham Chee • จ้ำจี้


coming soon ...
Kee Chang Chon Gan • ขี่ช้างชนกัน


coming soon ...
Hua Larn Chon Kan • หัวล้านชนกัน


This is a 'game' for (male) adults. In English it would be called 'Bald Head Smashing'. This game was recorded first in 'Sumudkhot Kham Chand' a noted Thai literary piece dating from the age of King Narai Maharaj.