Contents
Statistics
Since July, 30, 2012
---
Your IP is 54.227.67.210
ec2-54-227-67-210.compute-1.am
Info
ขอวิศวกรผู้ยิ่งใหญ่ทรงพระเจริญ
further reading
LIMITATIONS
Due to our Software License we must not allow to use the Target 3001 File for commercial use !
---
Target 3001 Website
Your valuable opinion :
proj_08.php 4476 Bytes 16-07-2014 00:20:50
---
Power Supply PETH-40-HAM
+/- 15 V, 1.5 A, (nothing adjusteable)
This Design was done on public demand.
'HAM' in this case is not related to 'Amateur radio operator'.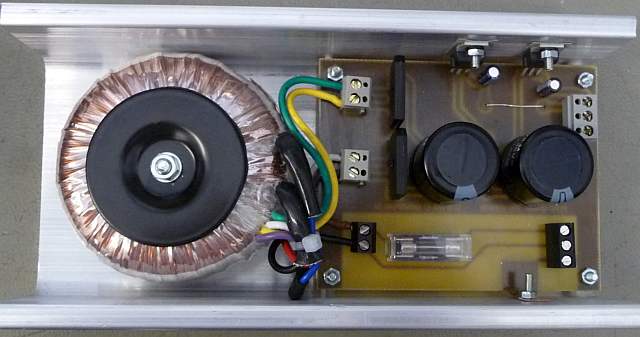 The main design goal was low-cost and reliability. All the regulation and current limiting is done with two standard voltage regulators, 7815 and 7915, both specified for 1.5 Amp.
In order to achieve long life, the capacitors are far away from the heatsink to avoid heating them up.

We afterwards realised, that 10'000µF Capacitors are cheaper than 4'700µF (both 25V). Feel free to use them instead ...
---
Share your thoughts.
Nothing more to be seen below this point ? Maybe your Browser blocks the facebook commenting iframe.