King Vajiravudh (1881-1925)
King Vajiravudh was the eldest son of King Rama V. (Chulalongkorn) He carried on the ideas of his father. He is known for his efforts to create and promote Siamese nationalism. His reign was characterized by Siam's movement further towards democracy and minimal participation in World War I.
---
Wikipedia
---
Mrigadayavan Palace, Hua Hin, Thailand

พระราชนิเวศน์มฤคทายวัน
sometimes also spelled : Maruekatayawan

It is most convenient to go there with a taxi. Closed on wednesdays.



---




---
The golden Teakwood Summer Palace of Love and Hope
In 1923, a new summer palace was constructed in Phetchaburi Province. The palace, which was later named 'Mrigadayavan Palace', was constructed by the royal order of King Vajirahvudh (Rama VI). It's original design was drawn up by the king himself before being passed to an italian architect, Ercole Manfredi, who worked in the Civil Works Department, to make the final architectural drawings.
Visitors will feel the tranquil and peaceful atmosphere of this royal residence, just like in the times that King Vajiravudh chose it for the site of his summer palace. Three groups of buildings are set along the beach. Their architecture style is predominantly European, but they have been wisely adapted to suit Thailand's tropical climate.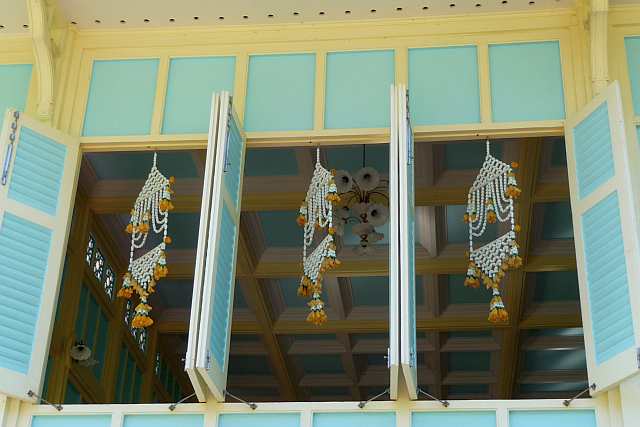 The buildings were built of golden teakwood, standing on a total of 1080 concrete pillars, all of which have small spaces filled with water to prevent insects from invading the upper wooden part of the palace. All the buildings are one story high with highly elevated floors, heigh ceilings and fretwork on all the walls to receive the fresh sea breeze and assure good ventilation. Covered wooden corridors connect all the three groups of buildings together, so the residents could conveniently travel between them without having to go downstairs.
Phisan Sakhon, the first group, was used as the private residence of King Vajiravudh. It consits of a royal suite which includes an office, a bedroom, a dressing room and a bathroom as well as a dining pavillon.

Samut Phiman, another group, formed the inner court of the palace where all other men - besides the King - were not allowed to enter. This group was used as the residence for Queen Indrasakdisachi, as well as her sister and their entourage. It included a dining room as well as a beach pavillon.
Samoson Sewakamat, also referred to as the 'front court' was used as the official audience hall. It includes a theatre, where plays of the King were performed, as well as a space for games and sport. It also had an office and a room for the night duty / chamberlains.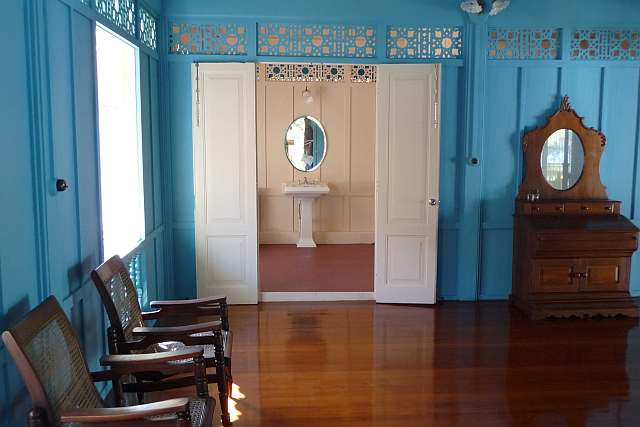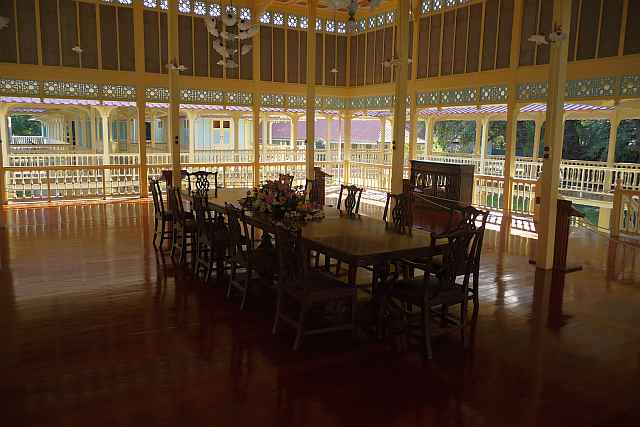 ---
Source : Wikipedia (วิกิพีเดีย) • หนังสือชาญฉลาด.
All pictures © Copyright by www.changpuak.ch